Miller DNA Project
For Anyone with the Last Name Miller
If your last name is Miller there is a good chance that you can find your distant ancestors by participating in the Miller DNA Project!
Any and all Miller's from anywhere and everywhere are invited to join! With about 800 Miller's already tested and a database of hundreds of thousands DNA profiles, matches are more and more common. Plus, DNA testing will provide you details about the ancient migration pattern of your Miller line and information on the recent country of origin in Europe.
I encourage any male with the last name of Miller to participate in the Miller Surname DNA Project at www.familytreedna.com. I don't receive any fees from FamilyTreeDNA.com and ask that any technical questions be directed to them at the e-mail addresses on their website.
Q. How is DNA Testing done?

A. Simply by rubbing a cotton swab (provided by FamilyTreeDNA) inside your cheek a few times and then mailing it back to FamilyTreeDNA. A few weeks later you get your results and notification of all matches. The YDNA test (which is what I recommend) costs about $100. You are also notified by e-mail if someone in the future tests and matches you. I have had 4 matches. One with a 5th cousin and most recently with a 6th or 7th cousin, which finally broke through a brick wall I had run into with my research.

Q. Who has tested?

A. About 800 Miller's from the United States and Europe, plus a few from Australia, South Africa, and New Zealand.
Columbia County, Pennsylvania Miller Family
If you are related to or have researched any of the family members mentioned below I would enjoy hearing from you ( gary@millerfamilyhistory.com ) and would be happy to share the latest information as this is an ongoing research project.
For more information on the following family (sources, dates, spouses, children, grandchildren, parents, etc.) please e-mail me.
Abraham Miller b. abt 1760 1st wife was Phebe Webb. married November 27, 1782 in Exeter Twp., Berks County, Pennsylvania.
children of Abraham Miller and Phebe Webb:
1. John Miller (father of William Moore Miller)
2. William Miller (my gggg-grandfather)
3. Thomas Miller
4. Isaac Miller
5. Rachel Pursel (late Barton)
children of Abraham Miller and his 2nd wife: Nancy (married about 1800)
1. Jacob Miller
2. Joseph Miller
3. Elisha B. Miller
4. Abraham Miller (b. 1808 merchant)
5. Warrick Miller
6. Maria (married Isaac Low)
7 Nancy
8. Eliza Ann

DNA results for Abraham Miller (1758-1821)
Map of Miller Family along the Susquehanna River in the late 1700's and early 1800's
(was all Northumberland County, Pennsylvania at the time)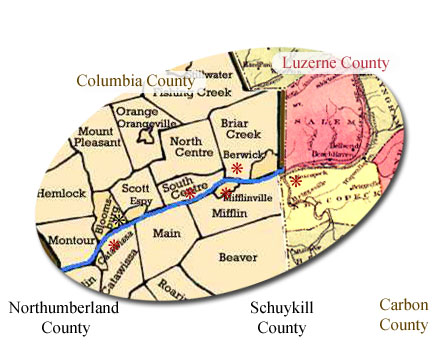 In 1813 Columbia County was created from Northumberland. Prior to 1790 the area was in Wyoming Township, Northumberland County.
The above area as located in the state of Pennsylvania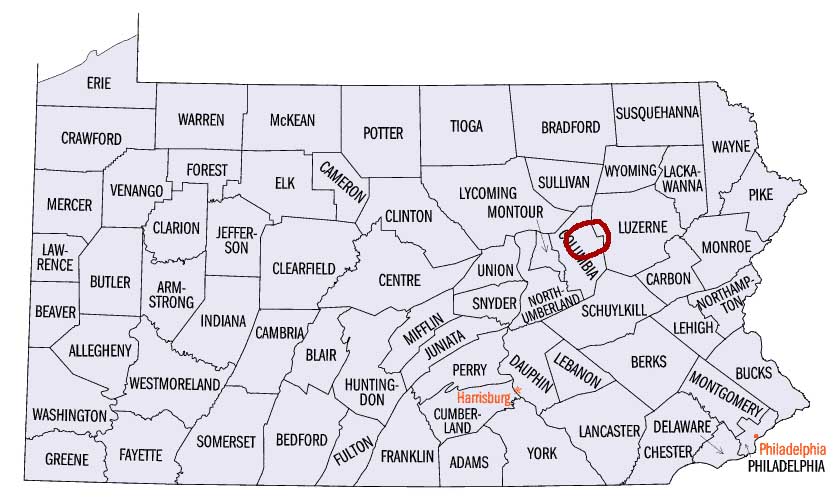 Gary Miller can be reached by e-mail at: gary@millerfamilyhistory.com
DNA results for the Above Miller Families
(note the Miller Surname Project has over 400 participants this link is not related to that project)